Combine:
1 can whole kernel corn (drained)
1 can of cream corn
1 stick of butter (melted)
1 C sour cream
1 box of cornbread mix (Mary used Jiffy Corn Bread Mix)
Pour into a greased pan or casserole dish (a cast iron skillet gives it a wonderful crust) and bake in a preheated 350-degree oven for about 45 minutes.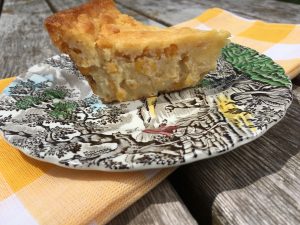 It's so easy – but so delicious. And, if you want to get creative, you can add shredded cheese for richness, chopped jalapeno peppers if you're serving it with chili, or bacon bits because, well, it's bacon. (And we all know how Bradley feels about bacon.) Enjoy!!!