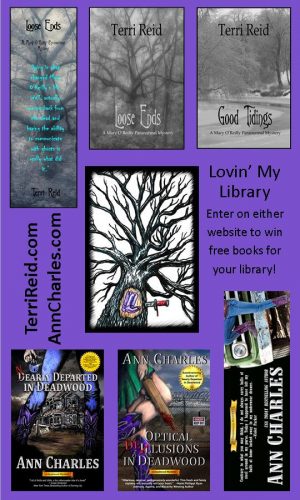 One of the coolest things about being an author are the OTHER COOL AUTHORS you get to meet!!!
Ann Charles is an author I not only admire, but I REALLY like her too!!!  She's funny and talented and generous…  And that's what this post is all about.  Ann invited me to be part of her "Loving My Library" contest – this is her second year.  I'm so EXCITED!  I love libraries – and they never have enough funding.  And I LOVE my readers – and they never get enough recognition.  So – see how we did this – we combined both of those LOVES into one contest.
So – here's the details.
Ann will be donating a copy of Nearly Departed in Deadwood and Optical Delusions in Deadwood (the first 2 books in the Deadwood Mystery Series) AND I will be donating a copy of Loose Ends and Good Tidings (the first 2 books in my Mary O'Reilly Paranormal Mystery series) to 50 different libraries.
Did I say "Fifty?" As in "Five. Zero?" YES! FIFTY! 50!!!
THAT'S RIGHT–50 Libraries will each get FOUR bestselling, award-winning printed books to add to their paranormal mystery collection thanks to YOU!!! All you need to do nominate your library is go to Ann's website (see link below), read the instructions, and send off an email. At the end of December, 50 libraries will be randomly selected from those volunteered and will win 4 books each.
'Tis the season of giving. Let's show libraries how much we love them! Nominate yours and Ann and I will let them know how much of a fan you are of their generosity! In addition, you'll get a one-of-a-kind unique magnet signed by both Ann and me as a Thank You for nominating your library.