Hi! I hope you all had a wonderful Thanksgiving. I did, and I've spent a couple of days at the gym just to get over it.
I have some exciting news!
First – I just published my very first children's book.  It's called – My Neighbor's A Vampire – and it's about having tolerance and understanding for people whose cultures and  habits might be strange to us.  I thought we needed a book about friendship and tolerance these days.  It's out as an e-book right now – and in the next week or so, it will be available in print.  I'll let you know when that happens. (You can find the e-book version here)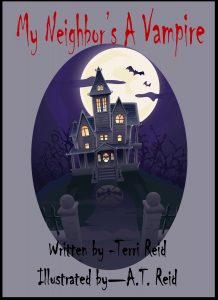 Second – Amazon has given me the honor of being part of a boxed set collection with a bunch of amazing mystery writers.  These are all writers popular enough to have Amazon invite them to create a Kindle Worlds for their characters.   The title of the collection is Kills, Chills and Thrills – and you can find it here…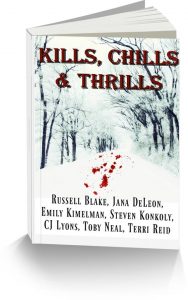 I hope you were able to enjoy the beginning of the holiday season.  I was at WalMart
on Saturday

, just to pick up a few things, and so many people were tense and angry.  There are so many pressures on us to make the holidays perfect – find the perfect gift, make the perfect meal, decorate the house so it's amazing…  Sometimes we forget what this season is all about, we get so wrapped up in expectations.  I hope you can stop, relax, listen to some soothing music, smell the crispness of a pine forest, see the joy of Christmas through a child's eyes and let the peace and goodwill of the season surround you.
Take care!