Mary O'Reilly Series
Mary O'Reilly Paranormal Mystery Series
Dying is what changed Mary O'Reilly's life.  Well, actually, coming back from the dead and having the ability to communicate with ghosts is really what did it.  As a third-generation Chicago cop, Mary knew the risks of being a police officer and didn't hesitate to step between a drug dealer's bullet and her beloved older brother, Sean.  But instead of "going to the light" when she died on the operating table, she was given a choice – a choice that would change her life.
Now, a private investigator in rural Freeport, Illinois, Mary's trying to learn how to incorporate her experience as a Chicago cop and new-found talent into a real job. Her challenge is to solve the mysteries, get real evidence (a ghost's word just doesn't hold up in court), and be sure the folks in town, especially the handsome new police chief, don't think she's nuts.
Throughout her adventures, Mary is aided by many colorful characters.
Police Chief Bradley Alden is not only good-looking; he's one of the good guys.  He really believes in truth, justice and the American way.  However, he doesn't believe in ghosts.  That is, until he actually meets one.  Bradley also has a secret; eight years ago his home was invaded and his pregnant wife taken. For nearly eight years he searched to solve the mystery of her abduction.  Now, financially drained and realizing he is no closer to the truth than he was eight years ago; he tries to start fresh in the small town of Freeport, Illinois.
Sean O'Reilly, Mary's older brother, is head of the Special Crime Unit for the Chicago Police Department.
Stanley Wagner, who has the appearance of a seventy year old, the mind of a thirty year old and the sense of humor of a teenager.  He wears his round spectacles low on his nose and his eyebrows high on his forehead.  Stanley is the fifth generation owner of Wagner's Office Supplies, affectionately referred to as Stanley's by everyone in town.
Rosie Pettigrew is in her early sixties, but has the appearance and energy of a woman much younger.  She is always outfitted as if she were expecting to take tea at the White House. She had buried four husbands, raised five children and gone through three careers.
Mike Richards, an irreverent ghost who used to be a fireman before he was murdered by a love-sick psychopath and now has decided that he is Mary's guardian angel.
Professor Ian MacDougal, a Fellow from the University of Edinburgh who is in the States researching paranormal entities and criminalistic methodology.
Together, they work to solve mysteries so spirits with unfinished business can move on.   These mysteries take them to all parts of rural Northwest Illinois and the Chicagoland area.
Loose Ends (Book One)
Twenty-four years ago, a young woman drowned in the swimming pool of a newly elected State Senator.  It was ruled an accident.  But now, as the Senator prepares to move on to higher positions, the ghost of the woman is appearing to the Senator's wife.
Mary is hired to discover the truth behind the death. She unearths a connection between the murder and the disappearance of five little girls whose cases, twenty-four years later, are still all unsolved.  As she digs further, she becomes the next target for the serial killers' quest to tie up all his loose ends.
Click here to buy Loose Ends
Good Tidings (Book Two)
Black Friday – the official opening of the holiday shopping season – and Patrice Marcum is stuck in the middle of her local superstore with a crying infant, a near-hysterical desire to just abandon the diapers and milk she desperately needs, and the snowstorm of the century dumping half a foot of snow on the parking lot outside. She needs a miracle.
The little old lady seems sweet, but there was no way Patrice was going to leave three-month-old Jeremy with a stranger. She looks outside at the snow-covered parking lot and sees yet another distressed shopper's cart topple over in the drifts.  The old lady senses her distress and volunteers to call a store employee to help watch over Jeremy while Patrice gets her car.  The older gentleman, wearing a store badge with the name "Ron," seems too good to be true.  What could be safer?
Less than five minutes later, after brushing the snow off the van and driving across the crowded and snow-packed parking lot, Patrice pulls up in front of the store.  Jeremy is not there.  Pushing back panic, she rushes into the store and looks around. Jeremy is not inside either.  She pushes through the line at Customer Service; the associate calls Ron on the intercom and issues a Code Adam.  When Ron appears and he's only seventeen years old, Patrice realizes the worst. "Oh God!  They've taken my baby!"
Mary O'Reilly, private investigator, is decorating her office for the holiday season when the newly installed bell over her door jingles.  She looks over to see a six-year-old boy standing next to her desk.  His name is Joey Marcum and he wants to hire Mary to find his baby brother.
Mary nodded. "Okay, Joey, but I'll want to work with the police on this one. Do you have any problems with that?"
Joey paused. "No, I guess you can talk to them."           
"That'll be helpful."
"But you can't tell my mom you're working for me," he said, "Promise?"
"Yes, I promise."
Joey shrugged. "I don't think she'd understand, seeing that I'm dead, you know."
Click here to buy Good Tidings
Never Forgotten (Book Three)
Bradley crept forward between the tall narrow aisles created by the shelves.  Just before he reached the corner he heard a thump, the sound of a body hitting the floor.  He rushed forward into the corner of the room.
The desk was empty.  The chair was pushed up against it, neatly awaiting its usual occupant.  No one was in the corner.  No one was there to make the sound.  No one…alive.
A cold chill ran down his back. He really wanted to leave the room.  Instead, he moved closer.
He walked to the window and looked outside.  Snow fell softly on the rooftops in the city of Freeport.  It was Christmas Eve, a night of peace and miracles.
"Go home."
He jumped around. The voice was just behind him.
Even before he turned, he knew no one would be there.
He rubbed the back of his neck, still cold from the breath that carried those words.
The curse had killed another law enforcement officer in Stephenson County – this time it struck on Christmas Eve. Nearly a dozen good men had died in the past four years and they all had the same unexplained symptoms. And Mary knew Bradley was next.
Click here to buy Never Forgotten
Final Call (Book Four)
Stanley peered up into the shadows above the stage.  There was a colorful blaze of fabric amidst the burgundy curtains and canvas backdrops. He moved closer, trying to get a better view from a different angle.
"Hey, what's this play about anyway?" Stanley asked. "Is it a Western?"
"No, it's a drama," Rosie replied.
"How come you need a dummy hanging from a rope?"
She looked over quickly. "No one gets hanged in the play."
"Sure looks like it. Up there."
Rosie looked up to where he directed and saw the caftan and silk pants ruffling in the slight breeze of the theater twenty feet over the stage.
"Oh, sweet heavens! Stanley," she screamed. "That's Faye!"
Faye McMullen was murdered in cold blood at Winneshiek Theater and Mary O'Reilly and Police Chief Bradley Alden have to discover who done it before the murderer gets the chance to get rid of the prime witness… Mary O'Reilly.
Click here to buy Final Call
Darkness Exposed (Book Five)
Jeannine appeared in the room across from Mary.  Her face was streaked with tears and she was visibly trembling.  "Mary, I remembered," she cried. "I remembered and it was awful."
The time has finally come for Mary to investigate Jeannine's murder. As all clues point to someone in Bradley's old neighborhood, Mary and Ian move in to the former Alden residence and pose as newlyweds to set Mary up as bait for the killer.  With Stanley and Rosie at their side, they expose the darkness hidden in the depths of Bradley's old neighborhood.
Click here to buy Darkness Exposed
Natural Reaction (Book Six)
The last few students climbed through windows, black smoke billowing out of them. The teacher turned to his student. "I'll let you down first."
"But Coach, whose going to help you?"
"Hey, you're my best fielder, I expect to jump right into your arms," he said. "Just promise not to whip me over to Smith for a double play."
The young man, his face streaked with soot, grinned at his coach. "Yeah, Coach, I promise."
He took the young man's hands in a tight grip and slowly lowered him out the window. When he had extended his reach as far as he could, he let him go.
The student fell into the evergreen boughs, the prickly needles scraped his arms, but the branches kept him from hitting the ground. He rolled off the bushes and jumped up as fast as he could. He turned his eager face up to the window. "Okay, Coach," he called.
The explosion violently blew the windows out of the building. Screaming students darted across the lawn, barely escaping the shards of glass raining down on them. All of the students except Stevo, who still stood below the gaping hole in the wall, oblivious to the blood running down his face and arms. "Coach, Coach," he screamed. "I'm here, Coach. Coach, I'm here."
Mary O'Reilly investigates the death of a beloved high school coach while she tries to overcome the repercussion of solving Jeannine's murder.
Click here to buy Natural Reaction
Secret Hollows (Book Seven)
The man smiled at Timmy. "That would be nice of you. Why don't you lead the way?"
Timmy moved past the man and started back up the hill. He heard the whoosh of something moving quickly through the air, but it hit him before he had time to react. He felt the impact against his head and his whole body flew sideways through the air. Landing in the dense ground cover, his face was momentarily buried in loose dirt, pine needles, dried leaves and twigs. Lifting his head, he took a deep breath and started to scramble away on his hands and knees. A strong hand caught him by the neck and pushed him back into the dirt.
"Sorry, Timmy, I can't let you go now," the man whispered. "You'd tell."
Timmy Beck, fireman Mike Richards' boyhood friend, was killed twenty years ago, but everyone in the town is sure they caught the right man…or did they? Why is Timmy's ghost still haunting Lake Le-Aqua-Na?
Mary, Bradley, Ian and Mike investigate and find the true murderer may be much closer than they had ever expected.
Click here to buy Secret Hollows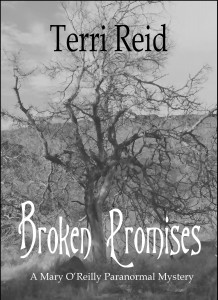 Broken Promises (Book Eight)
Clarissa yawned and rubbed her eyes. "Will I ever meet an angel, Daddy?" she asked, as she snuggled into her pillow.
He leaned over and kissed her on her forehead. "I'm sure you will, sweetheart," he said. "You just have to watch for them."
She nodded sleepily. "Night Daddy, I love you."
"I love you too," he whispered, to the already sleeping child.
A fierce feeling of protectiveness struck him as he watched her sleep from the doorway. There is no way anyone is going to take her from us, he vowed silently. Not while I'm alive.
The trial for Gary Copper has begun, but was there another murder in his past? One that would change the future for Bradley's daughter? And as Rosie and Stanley prepare for their wedding, they both have some ghosts in their own closets they will have to deal with.
Click here to buy Broken Promises
Twisted Paths (Book Nine)
Gloria Foley turned off the light in the hallway and made her way slowly upstairs to bed. She paused at the doorway of her daughter's bedroom and shook her head. It had been such an emotional day for all of them. She prayed she would have the strength to get them both through these treacherous teenaged years.
Slowly turning the knob on the bedroom door, she quietly opened it to check on her sleeping child. Through the narrow opening, she could see the bed was still made and no one was sleeping on it. She opened the door wider and saw the shadow on the far wall and her heart clenched. Screaming, she flung the door open and ran to the figure hanging from the thick electric cord suspended from the ceiling fan. "No," she screamed, as she tried to lift the inert body up to relieve the pressure against her neck. "Nooooooo!"
The ghost of a teenager who committed suicide twenty years ago is haunting her family's home. Can Mary link that death to the serial suicides of the girls who bullied her when she was alive?
And with Gary Copper still on the loose, Mary and Bradley are faced with the challenge of keeping the newest member of their family safe and sound.
Click here to buy Twisted Paths.
Irish Mist – Sean's Story (A Mary O'Reilly Short Story)
What would you do to win a game of hide and seek? After all, as the oldest child in the family, Sean O'Reilly had a reputation to uphold. Besides, the things his grandmother said about the woods beyond her fence line were just fairy tales. Stories to frighten children into doing what's right. Or were they?
Author's note: As I was working on Book 10, I realized that there was a story I needed to tell that would be important, not only to Book 10, but to the next series I'm planning on writing.
Veiled Passages (Book Ten)
A famous mystery writer drowns in a hotel bathtub… an accident or foul play? His ghost thinks it was murder. His mystery writer colleagues want to help Mary solve the case. Gary Copper is still on the loose and gunning for both Bradley and Mary. And, in between all of the murder and mayhem, Mary and Bradley are trying desperately to finally walk up the aisle. Will they ever become husband and wife?
Click here to buy Veiled Passages.
Bumpy Roads (Book Eleven)
Hurrying to the old bridge that crossed Yellow Creek, Courtney stepped to the side as a car came up behind her. The bridge was only wide enough for one car and even foot traffic had to climb up on the narrow ledge for safety. The car slowed and the driver's side window rolled down. A familiar face greeted Courtney.
"Hey, Courtney, how about a ride?" he asked.
She shook her head. "No, thanks, I'm good," she said. "It's only a few more blocks."
The driver looked up to the sky. "You won't make it before the storm hits," he argued. "Come on, I'll feel guilty all night if I leave you here."
She smiled. "Okay, if you put it that way," she agreed, jogging over to the passenger side of the car and letting herself in.
The door lock clicked as she buckled her seatbelt and she looked up in surprise. "It does that automatically," the driver said with an apologetic shrug.
Courtney scooted against the door and grasped the handle. "You know, I think I'll just walk anyway," she said, pulling against the handle.
But the door didn't open. She tried it again, but it was still locked tight.
"Child locks," the driver said, a smile on his face. "You can't get out until I let you out."
She pressed the window button, but it also stayed in place. "Listen, I don't want to be in this car," she said firmly. "Now please let me out or I'm going to scream."
He chuckled softly, leaned forward and placed his hand against her cheek, rubbing it intimately. "If you scream, no one will hear you," he said, as he slipped his hand down to her neck. "But you can do it if you like. I always love to hear a girl's scream."
For ten years, young girls have been disappearing from the streets of Freeport and the surrounding towns. Can Mary solve the mystery before Clarissa is the next victim?
Click here to buy Bumpy Roads.
The Three Wise Guides – A Mary O'Reilly Short Story
Mary O'Reilly is shot in the line of duty and discovers, with the help of three very wise ghosts, what her new gift is all about.
Click here to buy it on Amazon.
Treasured Legacies (Book Twelve)
Was it raining outside? Dale Johnson wondered as he woke up. It was dark and he could hear the sound of rain hitting the roof. Suddenly, he was pelted with something small and hard. He opened his eyes and sat up, nearly fainting in the process. His head was pounding. What the hell happened? 
He was pelted again and realized he was being hit with small pieces of corn. His stomach twisted and his heart pounded. He wasn't in his house; he was in the grain silo! 
Struggling to his feet, he lurched to the wall and found the hatch. He found the latch and pushed, but it was stuck fast. Pounding on it, bloodying his hands, he tried again and again to unlatch the door. 
The grain was now being emptied into the silo in a rapid rate. Dust from the corn was filling the interior and Dale coughed as he continued to fight with the door. "Help me," he yelled, "I'm caught in here!" 
The roar of the auger and the dump truck drowned out his voice, but he kept calling out and pounding on the metal door. "I'm in here," he screamed, as the grain filled the bottom of the silo, first covering his feet, then his knees, his hips and finally, it was waist high. 
He thought about his family, especially his wife, who would be waiting supper for him. He thought about his grandkids, who he'd never see grow up. He thought about his kids and prayed they wouldn't blame themselves for the accident. Finally, as the grain moved up past his chin, he took a final deep breath and thought about dying. 
A farm accident or murder? Could the murderer be one of his own children? And how will the ghost's legacy change Mary's future?
Click here to buy it on Amazon.
Buried Innocence (Book Thirteen)
Placing the bags on the counter, Donna slipped off her jacket and hung it on the back of a kitchen chair, and then she pulled an apron over her work clothes. She started unpacking the groceries, first putting the refrigerated foods away and then she started working on the canned goods. She smiled as she heard Ryan singing. It wasn't a tune she was familiar with, so he must have learned it in daycare. 
"Where did you learn that song?" she asked him, leaning over the open counter to listen more closely to the words. 
"Liza taught it to me," he said. 
She smiled. Ryan's invisible friend was certainly creative. "Well, say thank you to Liza for me," she replied. "It's a pretty song." 
He continued singing it, "Who will wipe away my tears? Who will chase away my fears? Who will sing me to sleep at night? Who will tuck me in real tight? Now that Momma's dead and gone, now that Momma's dead and gone." 
Slightly alarmed at the lyrics, Donna walked around the counter and entered the living room. "How would you like to watch your favorite cartoon?" she asked, picking up a DVD on a shelf next to the television set and sliding it into the DVD player. 
"But Liza still wants to sing," Ryan said. 
"Well, Liza can sing and you can watch television," she said. "How's that for a compromise." 
He nodded. "I guess that will be fine." 
She turned on the television and waited until Ryan's show started before returning to the kitchen to put away the rest of the groceries. She opened up a cupboard and was reaching up to the top shelf to put an extra jar of peanut butter away when she heard the soft voice behind her. It was high-pitched, like a little girl's voice, but it held an ethereal quality to it as it filled the kitchen. 
"Who will wipe away my tears? Who will chase away my fears? Who will sing me to sleep at night? Who will tuck me in real tight? Now that Momma's dead and gone, now that Momma's dead and gone." 
Mary O'Reilly receives a call from a friend in Galena urging her to drive there and speak with a woman who is sure her house is haunted by a little girl. Once she meets the child, she is astonished to discover the child was re-homed, an underground adoption practice still practiced in the United States. Unfortunately, her re-homing did not end well and Mary, Bradley and Mike search for a couple who "adopt" unwanted children and then murder them.
Click here to buy it on Amazon.