Who doesn't love Apple Crisp? Here is an easy stuffed apple crisp recipe that I know you will love.
Ingredients:
•  6 – apples
•  1/4 cup – brown sugar
•  1/2 tsp. – cinnamon
•  2 tbsp. – coconut oil (or butter)
Crumble Topping: 
• 1/3 cup -flour
• 1/4 cup – oats
• 1/2 cup – granulated sugar
• 1/3 cup – brown sugar
• 1/2 tsp. – cinnamon
• 1/4 tsp.-  salt
• 3 tbsp. – chilled butter
Instructions: 
Preheat to 350

Prepare the crumble topping: In a medium bowl mix together flour, oats, brown sugar, sugar and cinnamon. Cut in the butter with a knife or two forks until mixture is crumbly. Set aside.

Peel and chop 3 of the apples. Add chopped apples, coconut oil (or butter), brown sugar, and cinnamon to a medium sauce pan and stir over medium heat for 8 minutes or until apples are tender. Remove from heat.

Chop the tops off of the remaining 3 apples and use a spoon to scoop out the flesh. You don't scoop all of it out, just enough to make a "bowl" for the filling.

Fill scooped-out apples with the warm apple filling from sauce pan. Top with a generous amount of crumble topping.

Place stuffed apples on a baking sheet (I love using my cast iron pan)  and bake for 15-20 minutes until crumble topping is crispy. Serve warm with vanilla ice cream and caramel sauce.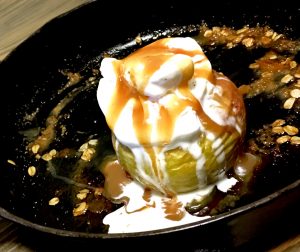 Sometimes I can't control myself and I just eat it straight from the pan. And house cleaning tips: that saves you time on doing dishes. You're welcome!