This is such a good and easy recipe.
Ingredients: 
4 large peppers

Salt and pepper

 1 pound – ground turkey (or ground beef)

1/2 – red onion

1 can -black beans (do not drain juice)

1 can  – corn (drained)

1 can (11 ounces) – Ro–Tel diced tomatoes and green chilies (do not drain juice)

1 pack of Taco seasonings (or 2 tbps. of homemade taco seasonings or season salt)

1 cup shredded cheese

Sour cream, for serving
Directions:
 Preheat oven to 350°

 Slice the tops off the peppers or cut the peppers in half and clean out the seeds.

Stand the peppers up in an oiled casserole dish and sprinkle the insides with salt and pepper.

Meanwhile, make the filling:

In a large frying pan over medium heat saute half a red onion.

Then add ground turkey and brown it, breaking it apart as it cooks. If using ground beef you'll want to drain off the grease.

Add the taco seasonings and follow the directions on the package.

Once the taco meat is ready, mix in the Ro-tel, corn, and black beans. Simmer 5 minutes, stirring often.

Stir in the cheese. Fill the peppers.

Bake 30-35 minutes – covered with aluminum foil.

Serve with a dollop of sour cream.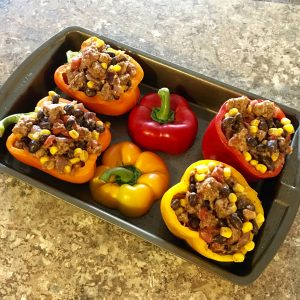 This is what it looks like before covering with aluminum foil and placing them in the oven.