This is actually a banana chocolate chip bread machine recipe… and it's AMAZING!!! I'll admit – I've had a bread machine for a while – I mean a LONG while -and never used it. So last night I decided, what the heck I'll give it a try. Then I discovered that I had some sad looking bananas and thought BINGO – Banana bread! This recipe is SO easy and fool proof.  Oh, and delicious!!!
Banana Chocolate Chip Bread Machine Recipe:
2 eggs

1/3 cup melted butter

1 ounce milk

2 mashed bananas

1 tsp Vanilla

2 cups flour (I used Bob's Red Mill unbleached white all-purpose flour)

2/3 cups sugar ( I used Kirkland's organic sugar)

1.25 tsp baking powder

1/2 tsp baking soda

1/2 tsp salt

1 tsp cinnamon

1/2 cup chocolate chips
Directions
Pour eggs, butter, milk, bananas and vanilla in the bread pan (provided by the bread machine) and set aside

Next combine all of the dry ingredients in a medium-sized bowl and mix well.

Then add the dry ingredients to the bread pan with the wet ingredients.

Press the "Quick Bread" button on your bread machine.

This cycle runs for about 2 hours

When finished, insert a knife or skewer into the bread to make sure it's done. If it comes out clean – it's good to go.

When baking is complete, remove the bread from the pan and place it on a cooling rack
Most of all ENJOY!!!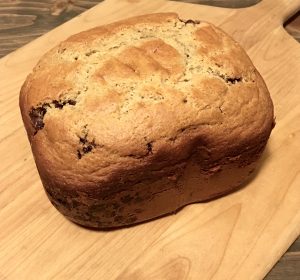 I mean, really, how cute is this little loaf? It won't last long in my house.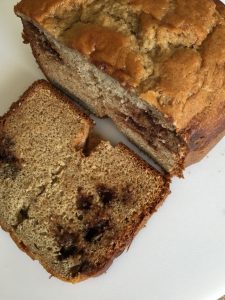 It's been less than 10 hours and it's more than half way gone – I may have a problem.
Also, as you can see the chocolate chips didn't distribute well – so when picking a piece, make sure you get the one with the most chocolate – you're welcome. 🙂