Ingredients:
–         2 cups flour
–         2/3 cup unsweetened cocoa powder
–         1 ¼ tsp baking soda
–         ¼ tsp baking powder
–         3 eggs (or 5 small fresh farm eggs) – that's all I had
–         1 ¾ cup sugar
–         1 tsp vanilla extract
–         1 cup mayonnaise (we used Hellmenn's)
–         1 1/3 cups water
Directions:
Preheat oven to 350. Grease and lightly flour cupcake pans.

In medium bowl, combine flour, cocoa, baking soda and baking powder; set aside.

In large bowl, with mixer at high speed, beat eggs, sugar and vanilla until light and fluffy. Beat in mayonnaise at low speed until blended. Alternately beat in flour mixture with water, beginning and ending with flour mixture. Pour into prepared cupcake pans.

Bake 20 minutes or until toothpick inserted in centers comes out clean. On wire racks, cool 10 minutes; remove from pans and cool completely.

This will make over 2 dozen cupcakes
NOW FOR THE BEST PART – THE FROSTING:
–         1 cup canned evaporated milk
–         1 cup sugar
–         3 egg yolks, slightly whisked
–         ½ cup butter
–         1 tsp vanilla
–         1 ½ cups coconut flakes (I used sweetened coconut flakes)
–         1 cup chopped pecans
Directions:
Put butter in a sauce pan and let it melt

Add milk, sugar, vanilla, and whisk in egg yolk

Cook and stir over medium heat until mixture starts to bubble and then cook for about nine minutes, stirring constantly.

Pour over coconut and pecans and mix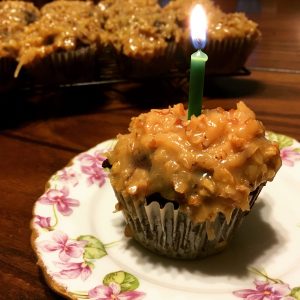 No we didn't just make these because they are AMAZINGLY DELICIOUS – but because they are "Poppa" Reid's favorite and it was his birthday!!