Boo Basket? What's a Boo Basket? Well, let me tell you!
A Boo Basket is a secret basket filled with Halloween goodies. You set it in front of your neighbor's door, ring the doorbell – and then you RUN!  Make sure to put the poem in with the Boo Basket so they know to pass it along to another person.
Here is the Boo Basket I put together: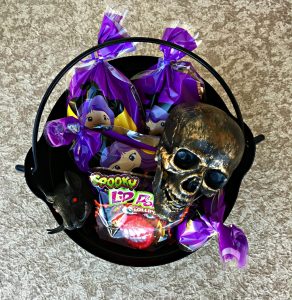 Here are some of the treats that I put inside (but really you can fill your baskets with ANYTHING!)
Candied Popcorn: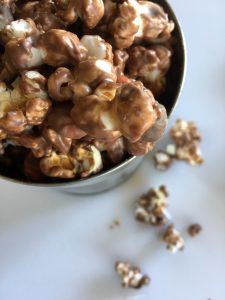 Recipe:
1 tbsp – coconut oil
1/4 cup – popcorn seeds
1 -2 squares of chocolate almond bark
1 -2 squares of white almond bark
1/4 cup – Reese Pieces
Directions:
Start by getting out a cookie sheet and putting wax paper on it. Then set it aside.

Put your coconut oil and your popcorn  in the machine.

While that's popping – melt your chocolate squares, if using the microwave make sure to check the chocolate every 20-30 seconds and stir.

Once popcorn is done and chocolate is melted – lay popcorn on the cookie sheet in one even layer and then add the chocolate and Reese Pieces to the popcorn

Then I put mine in the refrigerator to harden up. (That's optional)

Break into pieces, put in cute bags and enjoy!!!
Chocolate Covered Marshmallows: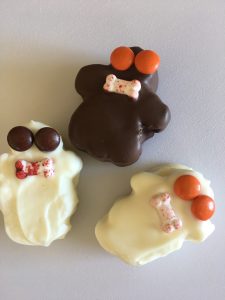 I found these cute little ghost Marshmallows at Walmart and thought these would be fun to use.
I just used the same almond bark, as the popcorn, and dipped the marshmallows into it. And while the chocolate was still wet I added Reese Pieces for the eyes and bone sprinkles as a bow tie.
Chocolate Boo Bark: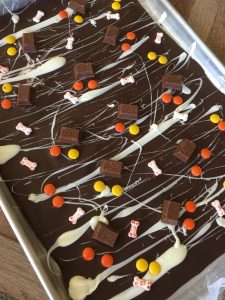 Recipe:
1 package – Chocolate Almond Bark
6 squares – White Chocolate Almond Bark
Kit Kats
Reese Pieces
Sprinkles
Directions:
Start with a cookie sheet covered with wax paper

Chop Chocolate Almond bark and put in a sauce pan over medium heat

Put the White chocolate squares in a bowl and into the Microwave – make sure to check it every couple seconds.

Once the chocolate in the saucepan is melted pour it on the wax paper and smooth it out into one even layer.

While still melted, add the white chocolate, candies, and sprinkles.

Put it all into the refrigerator and wait about an hour for it to completely dry.

Once solid – break it into pieces and bag it up.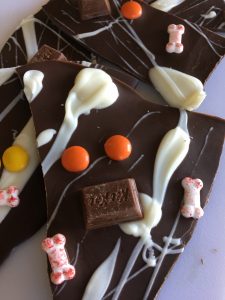 This is a really fun recipe – and you can get really creative: try adding pretzels, nuts, seeds,  or peanut butter. Really the possibilities are endless.
Once all of my treats were done, I added them to my Boo Basket, with a little more candy and maybe a few tricks. 😉  Happy Halloween!!!